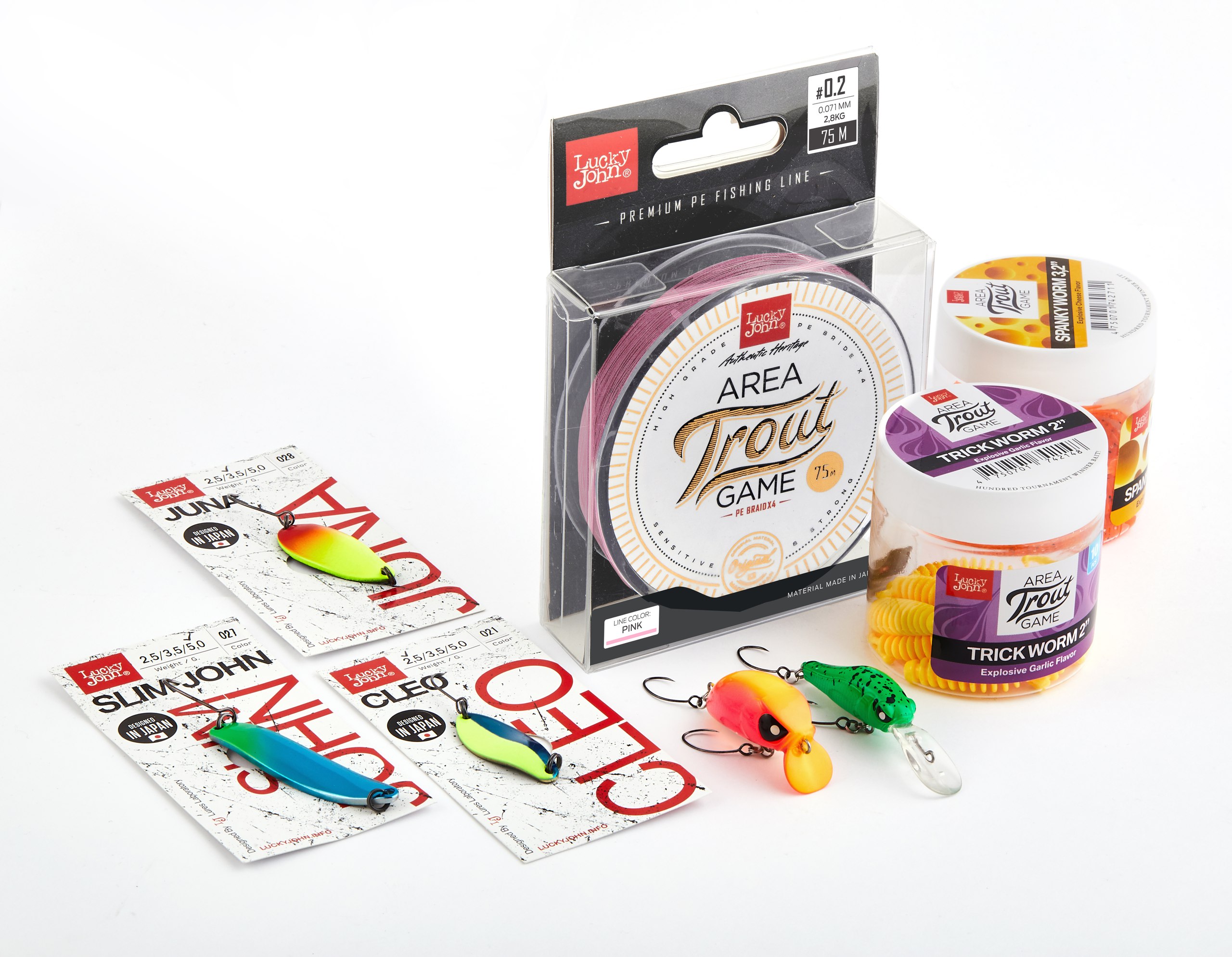 In 2018 Lucky John offers you the new series for area trout fishing – AREA TROUT GAME. The series includes rods, monofilament and braided fishing lines, soft lures, wobblers, metal lures and accessories.
Spinning rod Lucky John One Sensoric AREA TROUT GAME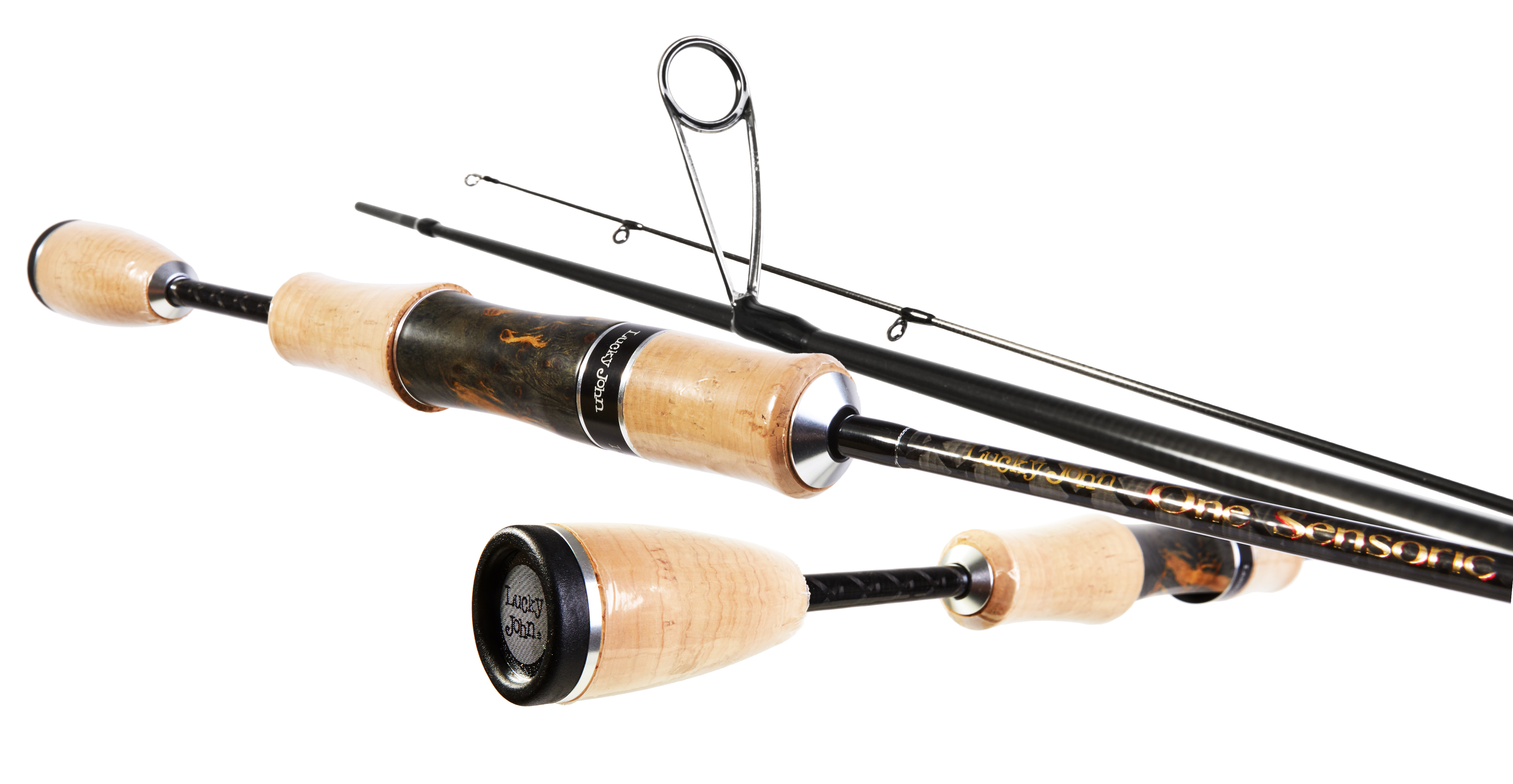 This is perfectly designed 1.83 meter medium action 2 section high class spinning rod that works excellently for trout fishing. The blank material is carbon fiber and it is equipped with Fuji KR guides with Torzite inserts. The rod weights only 70 grams and it works the best with lures of 1-4 grams.
Braided fishing line AREA TROUT GAME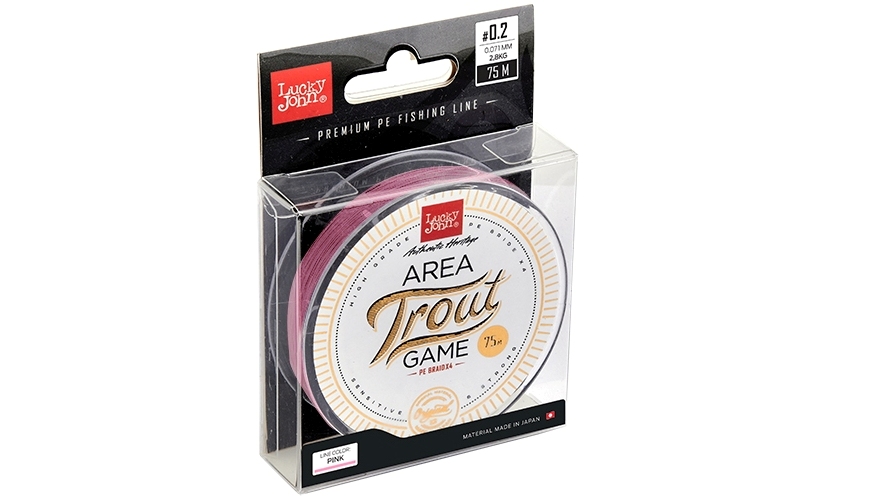 Specialized thin braided line for area trout fishing. 4-strand braided fishing line made of PE fibre. Due to the round cross-section and special coating, the line perfectly slides through the guides, allowing to cast small baits for long distances. Due to the very low stretch the braided fishing line is highly sensitive and this makes it possible to maintain constant contact with the bait and feel the smallest bite of the fish. Pink colour in combination with thin diameters does not frighten trout and the number of bites increases. Supplied in individual package – 75m length.
Monofilament fishing line FLUOROCARBON AREA TROUT GAME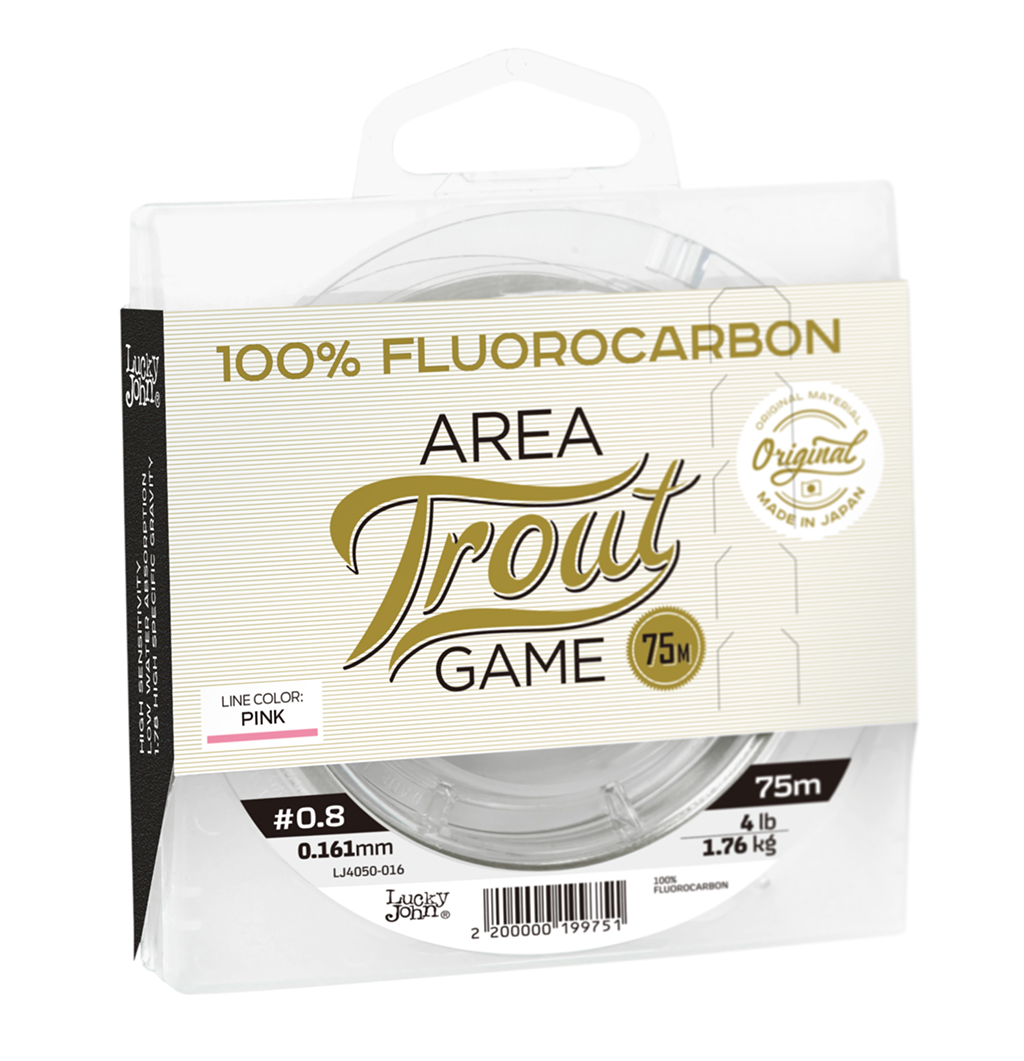 Special fishing line made of fluorocarbon and designed for trout and other cautious fish angling. The transparent colorless fishing line is invisible to the fish in the water. The material is soft, wear-resistant, heavier than water and invisible in water. When storing and using, fluorocarbon is a lot more durable than any nylon fishing lines. The fishing line is unreeled onto high-tech doughnut spools of 75 meters. The fishing line is produced and unreeled at a specialized factory in Japan.
Soft lures Lucky John AREA TROUT GAME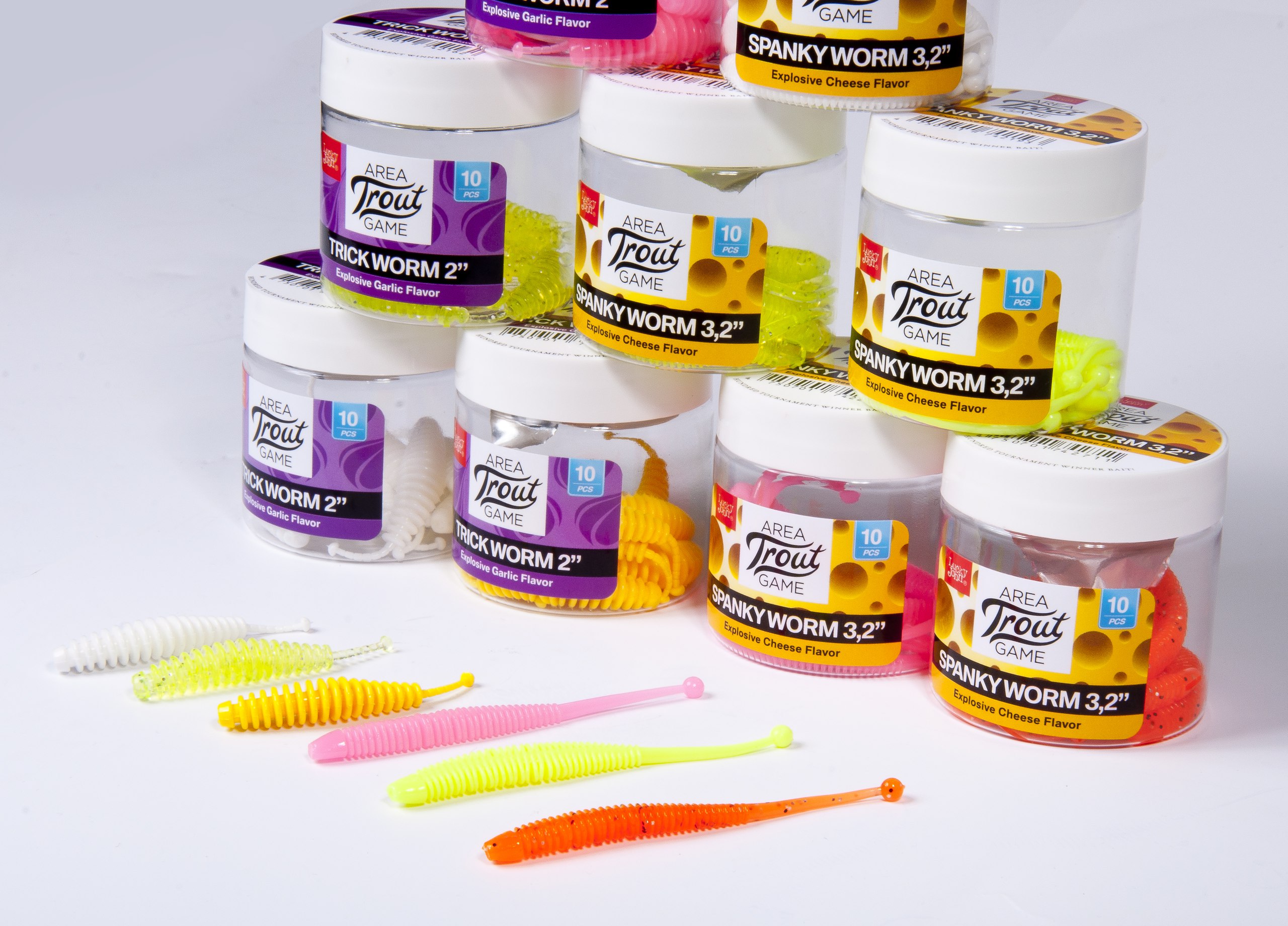 Soft baits specially designed for area trout fishing. TRICK WORM shape imitates larva and the lures are impregnated with garlic scent. SPANKY WORM shape imitates worm and it is impregnated with cheese scent. Both lure types are produced in six bright colors that are the most popular in area trout fishing. These baits can also be successfully used in freshwater perch or saltwater rockfish fishing.
Spoon baits Lucky John AREA TROUT GAME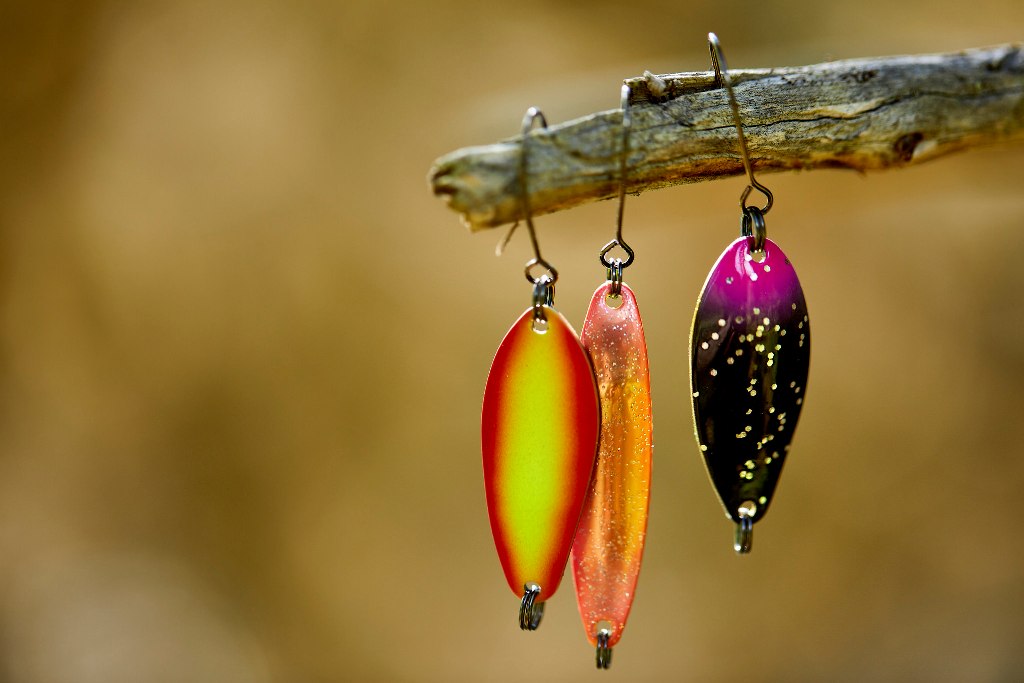 Lucky John JUNA and CLEO spoon baits created for area trout game fishing. Four typical sizes and ten top colors were chosen according the best traditions of Area fishing. These lures are also very suitable for fishing white predators – chub, ide and asp.
Wobblers Lucky John AREA TROUT GAME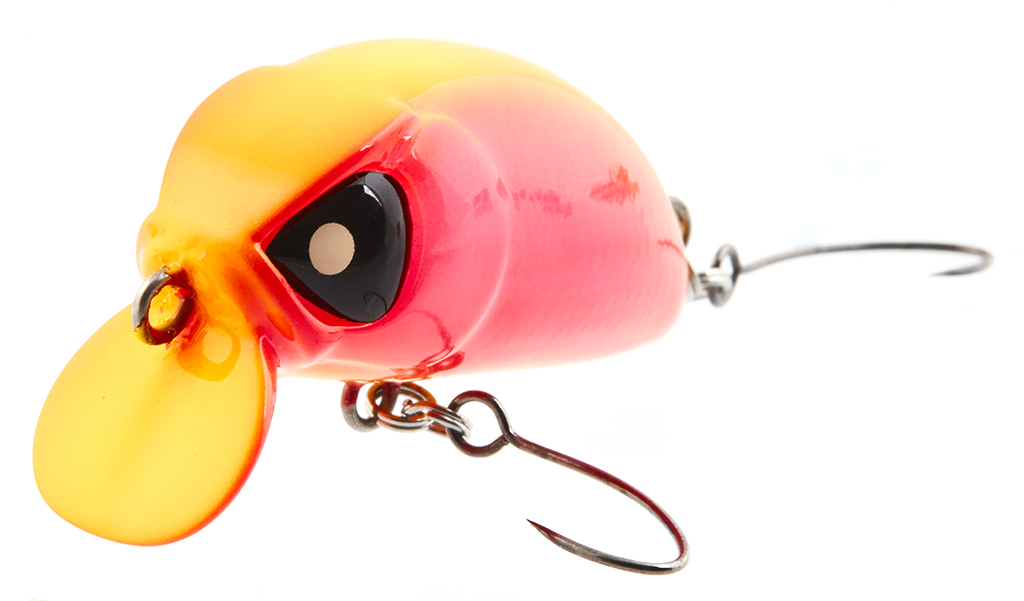 HAIRA Tiny 33 ATG Plus Foot and HAIRA Tiny 33 ATG Shallow Pilot are popular Lucky John Pro Series models specially adapted for area trout fishing. Lures are available in six most popular area trout fishing colors. The structural difference of these lures – lack of long casting systems –  OSS and MCS.
Accessories AREA TROUT GAME
Folding landing net Lucky John ATG material is silicone. This feature allows you to use this tool at any trout competitions where the "catch & release" principle is practiced.
Functional lure wallets for storing trout spoons and jig heads. The wallets are "book shape" that due to the additional inserts allows to increase wallet size three times. For more convenient use the wallets also have transparent PVC dividers.